Hi, Q-MHI Africa readers!
TRANSLATED
Much has been written in (English language) publications like this one about the economic potential of the Francophone Africa market of over 120 million people in 15 countries especially when it comes to a tech and innovation ecosystem. But what has often seemed lacking has been venture funding.
Some very big institutional players have been trying to solve this most fundamental challenge, including the French government which has backed a number of initiatives. One of these includes Digital Africa, which is run by former Q-MHI Africa Innovator nominee Karim Sy, who has been running digital businesses on the continent for over a decade including his Jokko Labs hub in Dakar, Senegal."There's something interesting happening with all these grassroots initiatives," says Sy. "There's a kind of coalition coming where our hubs are working together."
What's changed he says is that investors are finally getting behind local entrepreneurs with Dakar emerging as the key hub for French-speaking African entrepreneurs and attracting startups from other neighboring countries.
The World Bank's L'Afrique Excelle program played a major role in bringing 10 startups to Paris to get them to engage with more diverse range of investors who might be interested in emerging markets but won't be able to make it out to five or six different African cities at a time. The program offers equity-free acceleration for startups seeking Series A funding from $250,00 to $5 million.
Investors including Partech Ventures and the VC arm of French telecom giant Orange, Orange Digital Ventures have opened up in Dakar."The market is huge, one monetary system, similar legal systems and language," notes Grégoire de Padirac, an investment manager of ODV.
But it's not as straightforward as just investing in French-speaking startups simply because you'd like to. ODV's first startups investments in Africa were in English-speaking countries Kenya and South Africa in part because the majority of Francophone Africa's startups were at an earlier stage of development than the VC was set-up to fund. It has got round this by adopting a fund of funds model and plans to re-adjust its strategy in other ways to help support the early stage pipeline of startups.
— Yinka Adegoke, Q-MHI Africa editor
STORIES FROM THIS WEEK
The Congolese storyteller drawing on African mythology and spirituality for his comic books.
After growing up imagining a world in which only Japanese anime and American comic characters existed, Congolese artist Kiyindou Yamakasi tells Ciku Kimeria he is tapping into Yoruba mythology in a bid to have some of Africa's legends, heroes and heroines come alive in comics series.
His bet is paying off with the first comic book of the Orishas series having been read by more than 50,000 people and also having won the 2017 Lagos Comic Con award for Best Child Friendly comic book. The book is available free online, was published by a Nigerian publishing house, Vortex, and is in easy to understand Nigerian pidgin English.
Little Orishas
Then Yamakasi learnt about the doll tests that led to the success of the 1954 Brown vs. Board of Education case that struck down school segregation in the US. The realization black children preferred the white dolls and thought of the black dolls (and thus themselves) as inferior made him realize the importance of children having positive images of people – including fictional ones – that resemble them.
"I knew I was being called to make comics that will make African children proud of who they are. Everything about how my characters look is about embracing blackness—their hair, their skin, their lips, their noses. It is all deliberate. I want people to value this type of beauty." It is for this reason that he chose for Osun, the goddess of beauty to be the darkest character in the book.
Sango and Oya
The idea to draw on African mythology and spirituality also adds the layer of a colonized people digging into their past to discover its richness. He credits his time in South Africa with exposing him to African myths and turning him into an avid pan-Africanist.
In future he hopes to make comics inspired by other African heroes including one on the Hausa warrior Queen, Amina of Zaria. For now, he is looking for production companies interested in animating the Little Little orishas that is still in the early stages of development. He hopes to uncover even more African myths, legends, heroes and heroines and have them come alive on TV and cinema.
---
The continent's top handset maker won out by designing phones that take better selfies of Africans.
The Chinese manufacturer Transsion has dominated Africa's smartphone market by making phones localized to African consumers. One key feature that distinguishes its devices is making cameras calibrated to better capture darker skin tones.
As its key focus market, Transsion has thousands of employees across Africa, working in production lines in its Ethiopian factory and as in-design and user interface personnel in Kenya and Nigeria. After conducting an in-depth analysis of consumers' photo habits and needs, the company found photo quality was important to not just younger consumers but increasingly wider age demographics. Phone cameras, especially front camera exposure, was the first feature customers inspected when considering buying a new mobile phone.
"We discovered ways to optimize photos, such as improving users' eyes, nose, skin color, and quality, which helps our users take a clearer, more natural, and more beautiful photo," says Robin Wang, the general manager of Transsion's hardware center.
In a continent with crawling electrification rates, Wang says the phones are designed to reflect darker complexions at night or in environments with little light. As part of their customization, the phones comprise "a custom front camera light for low-light environments, which localizes and enhances the color and brightness of the light, and an optimized photo effect to help users take bright and clear photos even in low-light conditions."
The adjustments are applied to both front and back cameras too, even though the firm is more adamant about improving the photo effects on selfies.
These skin modifications are present in almost all Transsion phone brands but are special to its camera-focused brands such as Tecno's CAMON series, Infinix's S selfie series, and Itel S brand. For instance, the CAMON, short for "camera monster," has a dual rear camera with quad flash that can help take a lighter and smoother photo. Because the cameras mainly use artificial intelligence-powered imaging technology, it can also help optimize and process portrait photos.
These price points for these smartphones range from $60 to around $250 for higher-end products like the Tecno Phantom.Transsion is also deepening its reach in Africa as brands like Samsung and Huawei ramp up their presence and production. As subscriber penetration grows, smartphone adoption in Africa is expected to more than double from 36% in 2018 to 66% in 2025.
---
A battle with TB inspired his smart medicine dispenser—now it's won Africa's top engineering prize.
South African Neo Hutiri, 31 won this year's Royal Academy of Engineering's Africa prize for innovation. He came up with the idea for Pelebox, a smart medicine dispenser, after waiting in lines for medication at a Johannesburg hospital during a bout of tuberculosis .The Tswana word pele "has three meanings: quickly, in front, and first. The idea was to build a solution that's patient-centric and ensures people are served quickly," Hutiri, 31, says.
For developing Pelebox, Hutiri won the 2019 Africa Prize for Engineering Innovation from Britain's Royal Academy of Engineering. The prize is worth £25,000 ($31,000).
Long waiting periods could demotivate patients from sticking to their prescriptions, a situation that would be worrying, especially in a country like South Africa. The country has 4.3 million people on antiretroviral therapy; the largest program in the world according to the World Health Organization. However, about 3 million more people living with HIV in South Africa are not on the therapy.
"The cost is under 9 rands ($0.60) per script filled," Hutiri says, and the tab is taken by the department of health and its partners. So far, Pelebox is operational in six public clinics in South Africa's Gauteng province and has had over 10,000 patient collections. "Eight more units are being manufactured and should be installed and operational within the next two months, also for Gauteng," Hutiri says.
Across Africa, engineers and social entrepreneurs are innovating to improve health outcomes. Four out of the five winners since the inception of the engineering Africa prize have developed health-related technologies. Last year's prize was awarded to Brian Gittafrom Uganda, who invented a low-cost bloodless test that uses light and magnetism to scan a person's finger in order to diagnose malaria.
In Ghana, two health tech startups were recently awarded $1.5 million each from the Skoll Foundation. Accra-based MPedigree uses a simple text message code that helps customers verify the authenticity of medicines, while mPharma manages inventory for small independent pharmacies and their suppliers.
---
Camel milk could be the next big superfood—thanks to East Africa.
With over 22 million camels, East African nations like Kenya, Somalia, and Ethiopia have some of the world's largest camel populations. Given the camel milk's medicinal and nutritional value, Abdi Latif Dahir reports on rising group of entrepreneurs who want to standardize and package the "white gold" for export to a global market seeking new healthy foods..As such, camel dairy products ranging from baby milk to chocolate bars, pizzas to frappuccinos have been launched all across the world.
In Africa, enterprises like Mauritania's Tiviski have been successful in disrupting the milk industry, ensuring they buy from local camel herders instead of relying on milk imports. In Chad, milk bars are helping popularize the consumption of the slightly salty milk, while Egypt's Tayyiba Farms offers a range of products including camel white cheese, kefir, and yogurt.
---
The 1619 anniversary of Africans in the United States is significant but not the whole story.
The year 1619 is historically marked to commemorate the 400-year anniversary of the arrival of Africans to the English colonies and the commencement of the Trans-Atlantic Slave Trade in North America. But, as Lekan Oguntoyinbo explains, there's a rarely told history of Africans in North American about 100 years before then.
For more than two years, the Hampton 2019 Commemoration Commission and Virginia's "2019 Commemoration, American Evolution" have sponsored events highlighting the forced arrival of Africans while also touting significant points of pride in Virginia's history.
Throughout the country there are scores of events planned all year, including symposiums, films, exhibits, historical reenactments, dance performances, festivals, lectures, poetry readings and panel discussions on a range of subjects such as reparations to mark the 400th anniversary. One travel agency in Philadelphia is offering a 10-day tour of Ghana that attempts to retrace the steps of the slaves before they set out for the Americas.
---
Liberia blocked social media after anti-government protests.
Liberians might have been expecting a lot of things under the presidency of George Weah, the former soccer star, but in many ways things have not changed much for the better. The expected June 7 protests took place to protest the country's economic slide even as funds disappear and the ensuing political uncertainty. In response all key social media was blocked on some networks.
In Monrovia's relatively upscale Sinkor neighborhood a ragged rope stretched across a side street late one recent night. A 20-something man, in scrappy shirt and shorts sidled up to a car. "Cold water, my man," he said using the local euphemism for a bribe. "Let me drink."
He was easily brushed off this time but checkpoints like this are a sign of this country's descent into hunger, desperation and uncertainty not seen for more than a decade. Just over a year into the administration of George Weah, former world soccer superstar-turned president, the economy is in a spiral.
Staggering mismanagement and corruption have scared off foreign investors. Frustrated donors are withholding funds. The Liberian dollar has dropped by a third against the US dollar since Weah took office.
CHART OF THE WEEK
Ethiopia and Kenya are struggling to manage debt for their Chinese-built railways.
The two East African countries are home to major Chinese-funded billion-dollar railway lines but a combination of social and economic factors mean both rail projects are struggling to show demonstrable success which could reduce the prospect of further loan finance from China. Yunnan Chen looks most closely at Ethiopia's challenges.
In the wake of the Belt and Road Initiative (BRI) Forum in Beijing six weeks ago, Ethiopia gained another Chinese debt-concession. China's second-largest African borrower and prominent BRI partner in infrastructure finance also received a cancellation on all interest-free loans up to the end of 2018. This was on top of previous renegotiated extensions of major commercial railway loans agreed earlier in 2018.
These concessions highlight the continuing debt-struggles that governments have in taking on Chinese large infrastructure projects. But they also demonstrate the advantages and flexibility, that African governments can gain in working with China—if they can leverage it.
OTHER THINGS WE LIKED
The role of music in Sudan's latest revolution.
Protests in Sudan over the past few months resulted in a landmark event in April: the ouster of long-time leader, Omar Al-Bashir. For The Nation, Isma'il Kushkush investigates how anthems have created a sense of solidarity among crowds and invigorated the protests.
In images reminiscent of Sudan's conflict zones, security forces stormed the site of the two-month-old sit-in—the epicenter of the uprising—on June 3, the last day of Ramadan, firing live ammunition, killing at least 30 and injuring hundreds. They burned several cultural-activity tents to the ground and cleared the site of protesters. Activists responded with calls for a general strike and civil disobedience. In a late televised announcement, Lt. Gen. Abdel Fattah al-Burhan, chair of the ruling Transitional Military Council, said he would end negotiations with the Freedom and Change Forces, an alliance of political groups that has led the protests; investigate the events of June 3; and hold elections in nine months.
For months, protesters had chanted the song's verses during demonstrations. Children made cell-phone video recordings of themselves singing it. Civil servants on strike in government offices shouted out its lyrics as they faced off against officials. "There were no words to express my feelings," Mao said after his performance.
What started as protests on December 19 in the northeastern town of Atbara against the overnight tripling of bread prices soon spread throughout the country, including the capital of Khartoum, transitioning into high gear with a large sit-in on April 6. Authorities responded with force, but the protests grew.
On April 11, under popular pressure, the Sudanese army intervened and removed Bashir from power, ending his near-30-year rule. Then came the battle of negotiations between the Freedom and Change Forces, which has been demanding civilian rule, and the Transitional Military Council. Many in Sudan, distrustful of the military, have been fearful of the "deep state" and the influence of neighboring powers that may consign their uprising to a fate like the ones in Egypt, Libya, Syria, and Yemen. For weeks, thousands refused to leave the sit-in.
Sudan's own popular uprisings of October 1964 and April 1985—the first in Africa and the Middle East to unseat military dictatorships—brought about protest songs, But perhaps the most impactful of all have been the songs of Mao.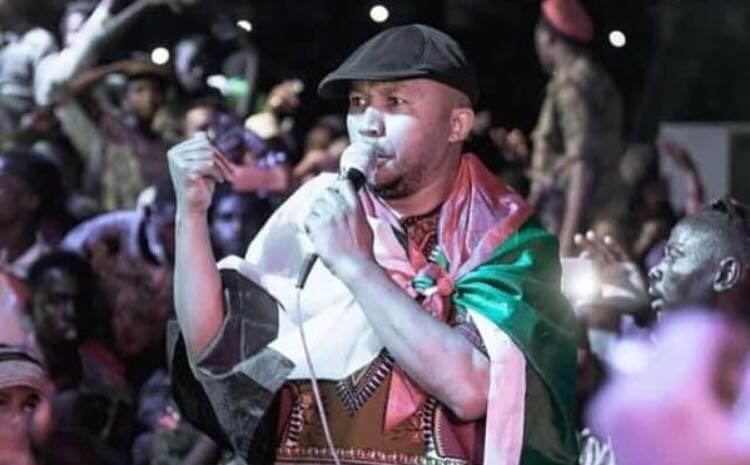 Born in Sudan, Mao—a childhood nickname and current stage name—began to show an interest in music in middle school. Like many young people, he was interested in newer and imported musical styles, especially reggae, inspired by the sounds of Bob Marley, Steel Pulse, and Third World. He joined a band in Khartoum, Sudanese Sound, and performed around the capital while attending university, where he was also an activist. Much of his music had a political slant, which often put him at odds with the authorities. "I wanted to appeal to the youth so they can see a different world," he said at the time.
After years of harassment and seeing no future for himself in an atmosphere of authoritarianism, nepotism, and corruption, he left Sudan in 2009 for the United States. He obtained an MBA in business and works as a logistics officer, but in his free time, he continues to write songs.
in support of protests there; the song became popular with activists. In September 2013, demonstrators in Sudan took to the streets again after the government doubled the price of gasoline. The government responded brutally, killing nearly 200. "I was shocked at they could do to stay in power," Mao told me. That inspired him to write"Dum." In it, he writes: Five years later, a worsening economy, hints at a constitutional amendment that would allow Bashir to run again after years of authoritarian rule, and continuing civil wars pushed Sudanese to a tipping point. Mass protests broke out once again. In the diaspora, Mao performed at community gatherings and rallies in Dallas; Washington, DC; and San Francisco in support of the uprising.
Along with the hashtag #TasgutBas (#JustFall) and the iconic photograph of activist Alaa Salah, "Dum" not only found new life but became one of the uprising's most recognized symbols. "I could not imagine that it would go that far," Mao told me.
When Bashir fell and focus shifted toward the push for civilian rule, Mao felt the need to be part of the historic moment. That's when a few Sudanese community members in the diaspora stepped in and renewed his passport, bought him an airline ticket to Khartoum, and flew him off to Sudan. When he arrived at the airport, Mao, in disguise, immediately went to the site of the massive sit-in nearby. There, a stage was set up for him and others to perform in what was likely the largest concert in Sudan's history. Despite technical problems, overcrowding, and the passing out of at least 14 attendees, the event was monumental. "The concert was overwhelming. I have never seen anything like it in my life!" said Ahmed Mahmoud, a filmmaker who attended the concert.
Now Mao is back in Texas and wary of developments in Sudan. But he still believes that history is on the side of the protesters. "I am confident we will win in the end," he said. "They cannot trick the Sudanese people anymore."
---
How China's value propositions gradually surpassed those of the United States.
For decades, nations across the world saw the US as a nation offering an ambitious global vision for progress and development.
But as Howard French argues in World Politics Review, there's been a scarcity of "both energy and imagination" to critically engage the world from recent US administrations—giving Beijing ample time and space to flip the dynamics in its favor.
---
Q-MHI Africa